Compliment Your Mirror Day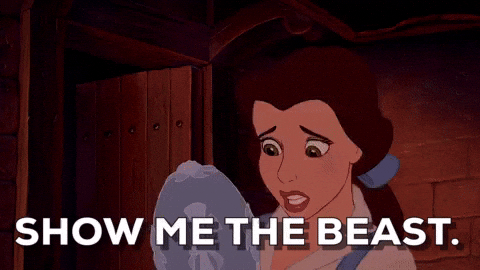 Image: Giphy
Today is the perfect time to sit yourself in front of the mirror, stare into those gorgeous eyes of yours, and acknowledge just how fantastic you are! Whether you decide to focus on complimenting your appearance or your personality, Compliment Your Mirror Day is all about encouraging strength and positivity.
We're all guilty of being critical and harsh at times when we look into the mirror – body image can be a tough issue for anyone, especially when our Instagram feeds are filled with endless numbers of seemingly perfect men and women. However, chances are that even they feel self conscious about their appearances as much as you do! So take it easy on yourself and stop comparing yourself to others, but most importantly, make sure you compliment your mirror every day of the year because you deserve it. There's no love better than self-love.
A number of people and brands on are trying to lessen the effect of seeing unrealistic standards of beauty on the Internet:
One example of a brand doing just this is Fenty. Rihanna seems to have the Midas touch at the moment, with every brand she's involved with praised for its revolutionary content and ethos, completely destroying its competition.
In fact, the Fenty Beauty brand generated five times the sales of Kylie Cosmetics within its first month on the market, beat them by 34% the next month, and is expected to outsell both Kylie's beauty line and Kim's KKW. Obviously, the diversity and inclusivity at the root of Rihanna's product story has a significant effect, but we think it goes more than that.
From Puma, to Fenty Beauty, to Savage, Rihanna has kept the same simple brand message, and it all comes back to self-love. We visited the beauty stores during their launch, to collect marketing content for our client, Sheridan&Co, who worked alongside with Kendo to design&deliver the retail space in Harvey Nichols, and found an overwhelming atmosphere of consumer positivity, and this is due to the self-love ethos. The focus throughout the Fenty Beauty messaging is to celebrate and enhance yourself: finding your skin shade, rather than covering it up with an approximation, and making the most of the features you have. In every single offering, her products look at ways you can celebrate yourself, and feel good in your own skin – which can be seen as the complete antithesis to anything put forward by the Kardashians.
We've seen each member of the Kardashian Klan dramatically change their faces, hair and body. On the plus side, it resonates with current consumer ideals of experimentation, and their contouring game (if you can replicate it) has been useful for beauty lovers and drag queens alike – but how does it make us feel about ourselves?
The Kardashian sisters have been pretty vocal about their own insecurities, yet the comfort and empowerment in Jameela Jamil's frank conversations about weight and eating disorders, or Rihanna's 'fuck it' attitude doesn't filter into their messaging, regardless of their own beliefs. This is because while Rihanna (and likely some genius team of business advisors) have looked at ways to address the increasing number of insecurities we all have, the Kardashians promote everything from girdles to appetite suppressants, wigs, and makeup that successfully covers all of your natural features... And it builds up.
Their presence in the beauty market hasn't been marketed as 'learning to love themselves', or even as experimental playtime and possibility, both of which could well reflect their own, personal journeys and celebrate the very same makeup products and techniques they sell, just in a healthy way. Instead the brands, and those like them, rely on out-dated ideals, and trade on consumer insecurities.
It's comforting, then, to see Fenty and similar brands outpace their less positive competitors with appeals to self-love and acceptance, and we're excited to see more brands enter into the conversation of authentic self-love.
So this Compliment Your Mirror Day, look to the Rihannas of the world for guidance. Remember that their success comes, not from total happiness with themselves (no one has that), but the ability to accept and celebrate themselves anyway.
Mirrors, since their creation, have been attributed with magical powers. In particular, the power to bring to life any statement said to them. Today, it's time to cast a spell over yourself by telling yourself how great you are (although you don't need magic for that to be true).